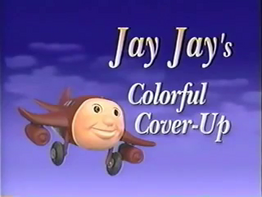 Plot
When Jay Jay sneaks away to chase a rainbow, a hailstorm rolls in and damages his rear end, but two twins, Harry and Larry, fix the problem, they used blue paint instead of Jay Jay's brown color, then he gets into trouble.
Trivia
A crew member's hand while pulling Jay Jay on a string is seen.
Jay Jay is blue for the first time & it becomes a permanant color
in the CGI episode "Concert Day" Jay Jay said he chose Blue & in the flashback he was white & not brown making the pilot model series seem nonexistant.
It is revealed that E.Z. O'Malley and Brenda Blue are all out of Jay Jay's regular brown paint so they use blue instead.
Episode