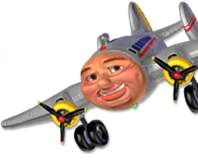 BIg Jake
Gender: Male
Character: Adult (supposed early 40's)
Human: Father Figure
Looks Like: Silver Cargo carrier
Moves: Propeller-driven
Big Jake is a Big Prop plane
Bio
Every young plane should have a friend, confidant and role model like Big Jake, Jay Jay's wise, warm hearted mentor. Big Jake is a large, steady, reliable prop plane whose specialty is transport. His strength and endurance are the stuff of legend in Tarrytown. And while Big Jake may look imposing, he would never use his tremendous size and strength to harm anyone. No matter what, Big Jake can be relied upon to get the job done.
Basis
Big Jake appears to be based on a Focke-Wulf Fw 191. He's voiced by Chuck Morgan who also voiced Old Oscar in the series installment.
Trivia
Whenever Big Jake was present in the Model Series, the bassoon was played. However, in the main series, whenever he is present, the tuba was played.
Gallery